Congratulations to our June aide of the month, Charanjit Singh!
Charanjit has been working as a CHHA for more than ten years. Charanjit explored Home Care when he was an undergraduate at Kean University. He brainstormed ways to earn extra money and pursued Home Care because his wife often shared her rewarding experience helping individuals in need.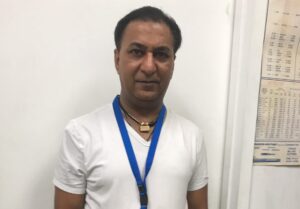 Charanjit was the primary caretaker for his father who suffered from dementia. He was dedicated to ensuring his father had the best care. After managing his father's care, he wanted to help more families in similar situations, believing that restoring a patient's dignity can improve their overall health. Charanjit has witnessed his clients with FCS improve significantly after building positive relationships and following their care plan.
All CHHAs must complete 76 hours of specialized training, pass a competency evaluation, and undergo a criminal background check before becoming certified and licensed by the New Jersey Board of Nursing. CHHAs work under the guidance and direction of a Registered Nurse and must undergo training in personal care skills, including bathing, dressing, shopping, meal preparation, Range of Motion assistance, and a variety of other tasks.
Charanjit was selected to be the June aide of the month for going above and beyond his duties. When asked where his clients would be without his care, he responded, "My clients would be in desperate situations. I couldn't imagine not being there for them".
He shared it is a priority to make sure his clients are presentable for their families; as it is important to Charanjit, that his clients, and their families, are satisfied with his service.
Charanjit would tell someone who was becoming an aide, "It's a tough role, but with the right attitude, it's rewarding. There's a lot to explore in the Health Care field".
Thank you Charanjit for all of your hard work and again, congratulations!
Author: Ty-Kiera Brown
Home Care Supervisor