Equal Opportunity Employer
Family & Children's Service is an Equal Opportunity Employer and does not discriminate in any aspect of employment on the basis of race, color, religion, gender, gender identity, age, national origin, disability, citizenship status, sexual orientation, veteran status, marital status, ancestry, pregnancy, ethnicity, or any other legally protected status in accordance with the requirements of federal, state, and local law.
Diversity, Equity and Inclusion (DEI)
We, at Family & Children's Service, are committed to creating an environment where Diversity, Equity and Inclusion are recognized and celebrated. Diversity, Equity and Inclusion are integrated into our values and we aim to promote these key concepts throughout all levels of our organization. When united with our common set of ideals, FCS's diversity and differences make us stronger, more creative, and adaptable to the changing needs of our community. FCS's commitment to embracing diversity makes us unique as a social service community-based organization.
We offer employees comprehensive medical, dental and vision benefits; an employer-matched 403(b) retirement plan; paid time off and holiday pay, and much more.
We are currently accepting applications for the following positions:
Director of Volunteer Services
Long Branch, NJ 
The Director of Volunteer Services strategically manages the day-to-day operations of the agency's volunteer-based community outreach programs.
Adult Protective Service Social Worker Supervisor (Monmouth)
Long Branch, NJ 
Supervise the practice of direct service Adult Protective Services (APS) Social Workers and to receive and assign intakes and referrals, also to carry a caseload of clients.
Representative Payee Specialist
Long Branch, NJ 
The Representative Payee Specialist is responsible for providing daily administrative support for the program through client phone contact and problem solving.
Adult Protective Service Social Worker (Monmouth & Middlesex)
Long Branch, NJ / New Brunswick, NJ
To render direct social work service to a selected group of clients in a manner to insure maximum benefits to clients.  To perform all related activities, such as (1) making full use of the agency's resources and outside facilities, (2) performing basic administrative tasks, and (3) participating in research and community work.
Registered Nurse Field Supervisor
Long Branch, NJ
The Registered Nurse Field Supervisor is committed to the Mission, Vision and Code of Conduct of FCS, as well as, nursing best practices promoting these principles amongst staff and in the community. Reports to the Director of Nursing. Responsible for general case management of caseload in assigned territory. Maintains accreditation compliance home visits, phone calls, assessments, plans of care and supervision of aides. Participates in training and in-service education programs as assigned. Performs all duties in accordance with FCS values, Code of Conduct and best nursing practices.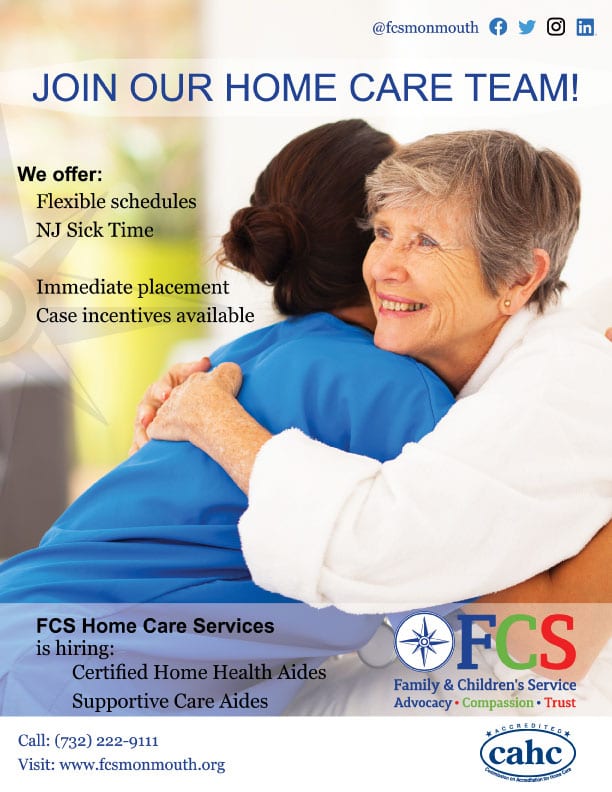 Certified Home Health Aides (CHHA) and Supportive Care Aides are needed to staff cases throughout Monmouth County. Immediate positions are available!
Applicants for Certified Home Health Aides (CHHA) must have a valid, current license from the New Jersey Board of Nursing.  CHHA applicants must also have a valid driver's license and provide proof of insurance.
Certified Home Health Aides (CHHA)
Monmouth, NJ
Under the supervision and direction of the RN Field Supervisor, the aide is responsible for the direct personal care of the individual and/or family assigned to under the plan of care establish by the RN Field Supervisor in accordance with the Family & Children's Home Health Aide Code of Conduct.
Monmouth, NJ
Provide non-personal, supportive care to patients in their place of residence, under the plan of care established by the RN.