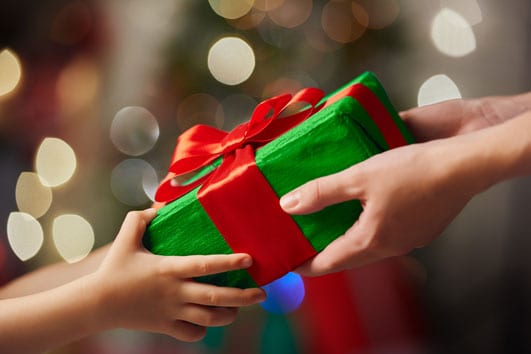 This year sign-ups for Operation Sleighbells will be completed on the FCS website.
If your family would like to be added to the program, you must complete the online application which will be available starting October 5th 2020.  The application will close when we reach our maximum number of children.
You will need to upload a photo ID for yourself, proof of address and birth certificates for all children you would like to receive gifts.
Operation Sleighbells is our signature program, tracing its roots to the start of our agency in 1909 when a group of Long Branch community leaders pooled their resources to provide gifts to children in need during the holidays. That original gesture evolved to include the distribution of food and coal and other necessities, and later expanded to provide essential social services for individuals and families throughout Monmouth County.
Today Operation Sleighbells serves more than 1,500 children annually by enlisting hundreds of local businesses, churches, organizations and families to donate warm coats, hats, gloves, toys, and infant necessities to families who may be struggling during the holiday season. The program is unique in that is preserves the dignity of participating families by requiring that both the sponsor and the recipient remain anonymous.